Club Apparel
To Order Your Apparel:
Jerry & Dominique Palacio*
Embroidery from Photos
PO Box 879
Douglas, MI 49406
Phone: 269.857.4324
Website: Embroidery from Photos
(Star Enterprises)
Embroidery from Photos offers a wide selection of apparel. While the official club color is royal blue and our jackets are black, you will find that members wear club apparel in a wide variety of styles and colors.
---
Apparel Catalog
|
Price List
|
Order Form
---
*In addition to the club apparel on the price list/order form, you may choose something from their online catalog. Please contact the Palacio's directly to obtain pricing on items available through their Website. They offer CCCC members discounted pricing. You can also order custom apparel with a photo of YOUR Corvette on it. Further contact information, including email addresses, is available on their Website and on the CCCC membership list.
The Palacio's also design graphics for Corvettes (and other cars), as shown in the pictures below.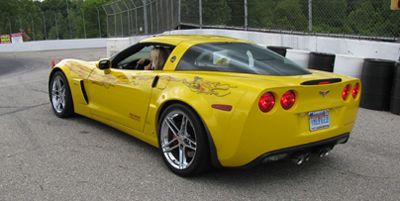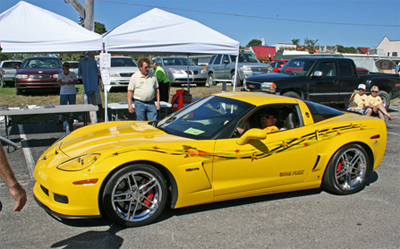 The picture to the left was taken as Dominique was ready to cruise around the track at Spartan in 2009.
The picture to the right was taken as Jerry & Dominique received the 1st place trophy in the 2005-2011 modified class at Corvette Crossroads in 2010.